Decoration methods
Methods of printing garments & accessories
There are several methods used to print clothing & accessories according to the structure of the manufactured material used .A variety of printing materials are available below are a few examples of media we use.
Digital Garment for full colour printing
Digital- Flex Garment Film
The Digi-Flex range of garment films allow full colour printing such as photos. Suitable for light and dark garments. Made in the EU.
  Vinyl Flex Heat Transfer print  
Vinyl Flex. It is designed so even the most intricate graphic.A full range of colours including neons , .Can be used on Cotton, Polyester and Polyester / Cotton mixes.
Pro-Flock heat transfer print
PRO-Flock is a range of premium grade flock for garments.Printable on cottons/polyesters/& mixed fabrics
 Glitter Flex
Glitter Flex is a super glittery premium garment vinyl that has a light texture giving the ultimate bling look.
DIRECT TO GARMENT PRINTING (DTG ) – While screen printing technique is considered to be traditional and known by everybody, direct to garment printing is fairly new.Because it is fairly new, the printer is also very expensive, but the quality of the printed t-shirts is excellent.With the direct to garment printers, the design is printed directly on t-shirt or on the desired product (mouse pad, caps etc.).The art process allows unlimited colours and shades to be printed, thing that could not be possible with the screen printing. It is the perfect option for photo t-shirts and very detailed images. Direct to garment printing is considered to be the only professional option for low run orders. That means you can print one t-shirt or 100 without problems. The printing process in the case of DTG takes longer than in the case of screen printing and the big disadvantage is that the artwork can't be printed on dark t-shirts (with few exceptions). Also, that's the reason why the printer does not print the white colour.The result is professional and designs are not felt on the garment.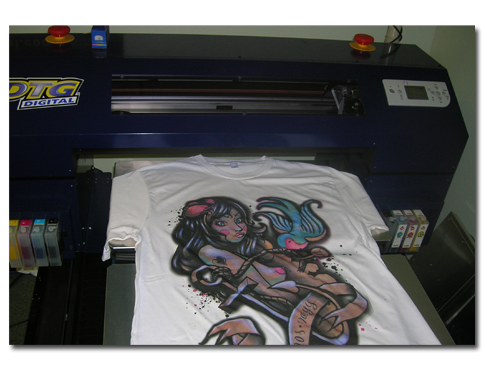 DYE SUBLIMATION PRINTING – is actually the heat transfer onto polyester garments and polyester coated items (such as mugs). Dye sub process is limited to printing on white or light to medium coloured garments that have a 100% polyester surface and allows for full colour printing as well as spot colour printing on garments. Sublimation ink is a special ink that turns to gas when heat is applied. The heat makes polyester pores to open and permanently absorb the sublimation ink. But this is possible with most of non-textile garments, like mugs, puzzles, key chains, mouse pads etc. This technique can also be applied to polyester t-shirts, but there is a restrained demand on this chapter. Dye sublimation printing also requires a special transfer paper which is cheaper than inkjet transfer paper, but the sublimation ink is very expensive.

Besides these techniques, there are plenty more. Here are some of them, even that they are not used as often as the above ones, they are required in some businessareas: plastisol printing, waterbased printing, non-pvc printing, discharge printing, metallic inks, glitter inks, foil, gel, 3d printing, cut and sew, embroidery, thermochromic, photocromic (color changing).
EMBROIDERY
SILK SCREEN PRINT
SCREEN PRINTING
It's the most commonly used method for t-shirt printing.It uses screens pressed up against cloth to place paint onto shirts one colour per screen. Each press uses a single colour, so that means that for a t-shirt design that has 5 colours, you will need 5 separate screens. Screen printing is high quality, professional looking, durable, and can be very price effective on volume orders. Some cons might be the fact that it's messy to work with many screens, and if you want to do one t-shirt or two, that's definitely not the right choice for printing. Also, screen printing has setup fees, depending on the number of the colour screens to be burned. Concerning the colours of the t-shirt, if you want to print on dark t-shirts, there is a white under base that needs printed first.
Screen Printing up to 8 colours
This is a good choice for larger batches of garments. The set up costs are higher than for Heat Transfer Printing, but the per-garment cost is lower.
This is a technique which uses a screen with open areas on a silk (now synthetic) mesh that transfers ink as a sharp-edged image on to the garment. The open areas are the design, a squeegee is moved across the the screen, transferring ink through the open areas and on to the garment. The water based ink is then heat cured into the garment making it durable and suitable for machine washing & a long colourfast life.